Scientific evidence does not let us lie: colours are the decisive factors when choosing a product. Satyendra Sigh, a researcher at the University of Winnipeg, has come to some conclusions through her studies of colour psychology:
The consumer makes the purchase decision within the first 90 seconds after interacting with the product*;

There are other aspects that interfere with the conversion, but for a portion of customers (between 62% and 90%), the judgment of a product is made based on its colour.
Given this: it is: how to apply colour psychology to marketing in order to awaken the love of future customers at first sight? We don't have a cake recipe for you, but we've separated some killer tips that will help you design strategies with great chances of success. Pay attention to the following topics!
1. Evaluate color performance and choose the one you like best 
You shouldn't choose a colour just because it's pretty. It is important to know the meaning of the colours, the connection of the tones with the visual identity that represents your brand and choose the ones that provoke the best reactions from your audience.
In materials such as landing pages or in an email marketing framework, for example, it is essential to perform A/B tests and evaluate the results. In practice, these tests allow you to build your marketing strategy with more than one choice of format, content, layout and, in the case of buttons or CTAS, text and color choice.
2.Work with a palette of colors that are reminiscent of your brand
Choosing a color is very important for building a company's branding. Think about it: when you remember famous brands like Fast Food McDonald's, what colors do you remember? It is likely that when you do this exercise, the memory is not only of the chromatic composition that mixes red and yellow, but the image of the logo is also clear in your head!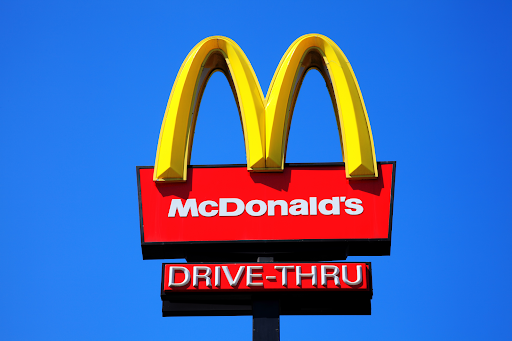 We got it right, right? If you reflect a little more on other global brands, you will notice that all of them, regardless of segment, use color strategically. After all, more than the common meaning, a brand's chromatic palette reinforces the company's memories, in addition to generating an emotional connection with people.
3. Consider user experience
In addition to understanding the meaning of colors, another simple and efficient marketing strategy is to use them to highlight important information in your brand's communication materials and actions.
Considering the user experience is fundamental to the success of your marketing strategy and to the consumers' association with good feelings. Let's go to a practical example? If you are going to build an email marketing for your brand, for example, it is worth paying extra attention to the following precautions:
Prioritize colors that make it easier to read and less tiring;

Understand what the preferred colors of your business persona are;

No more colors that make reading difficult;

Watch out for aggressive tones: there are colors that literally make your eyes hurt;

If in doubt, use and test.
Capturing the user's attention is not an easy task amidst the universe of internet content, but by following these tips you can make the user experience more enjoyable and influence their actions in a positive way.
4. Do research on converting colors and rate your audience
Regardless of the marketing technique chosen, good marketers know that knowing the habits and preferences of the business persona is already half the way to conversion. To your delight, there are scholars who relate color psychology 
A Quick Sprout survey on the subject brings important insights into the relationship of color psychology applied to marketing. Are they:
Paid media ads with mixed colors perform better than black and white versions;

For 89% of customers, color is associated with a brand;

There are differences in the interpretation of the meaning of colors by men and women. Women associate blue, purple and green with their favorite shades while men prefer green and black, for example;

Understanding the meaning of colors can literally change your strategy;

A/B tests are super necessary. A different color in the CTA can significantly change the click-through rate and conversions.
For each niche, product for sale or strategy, there are changes in factors that can cause a dropout or increase the chance of converting a marketing material because of the color palettes. So, here's the tip: always test to see what works and what needs improvement!
Understanding the meaning of colors
From the beginning of the article, we are stressing that the meaning of colors can be profound. We are not going to talk about each one of them here, because each color can have multiple tones, but we selected some colors and their meanings so that you can understand the breadth of this meaning in practice.
Blue
Blue is often associated with feelings such as tranquillity and peace. In the interpretation of "Psychology of Colors", Eva Heller defines blue as a color that conveys an air of intellectuality, intelligence and concentration.
Blue is also considered a cooler shade and therefore contrasts with very vibrant and passionate colors. There are many shades of blue and impressionist artists used to use them a lot in their artwork.
Red
Red is a striking color. Those that draw attention and provoke intensity. It is not by chance that the color red is associated with the color of all passions, danger and power. Stop and think about the figure of kings and people with high power of influence and hierarchy in society: it is common for them to wear red, right? There are variations of meaning according to tone. It is estimated that there are at least 105 variations of red. There are many subjectivities involved, you can bet!
Yellow
When it comes to analyzing yellow, the meaning of colors can be quite diverse. Some say that yellow represents optimism and prosperity, while other scholars argue that the tone is contradictory and depending on the tone, the interpretation can be one of contradiction and jealousy.
Orange
Orange is a color with personality. Exotic, penetrating and strong. It usually conveys a lot of energy, enthusiasm and feelings of recreation.
Violet
The color violet or purple is very associated with the feminine, the feelings of magic, the feminist movement and the LGBTq movement. It is a color that brings with it many meanings ranging from power to beauty.