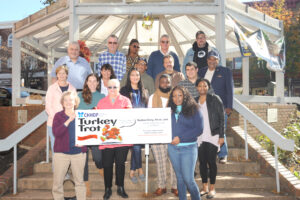 Prepared? Established? Go! On Saturday, Nov. 20, residents of Peekskill and Westchester will be lacing up their sneakers and showing their local community spirit to support a great induce.  
Peekskill's Turkey Trot is again, in what promises to be a exciting-filled event to support be certain this Thanksgiving is a bountiful one for all.  
Hosted by CHHOP (Caring for the Hungry and Homeless of Peekskill), a non-earnings firm based in Northern Westchester, all are welcome to participate in the 1-mile fun run — people today, families, couples, close friends, and groups. Participants (costumes optional) will satisfy at the Gazebo in downtown Peekskill for check out-in that begins at 8 a.m., adopted by a operate on a clearly-marked 1-mile route by way of the city.  
*** 
As a registration "fee," participants are asked to deliver a frozen turkey. The turkeys will be gathered, for later distribution at the conclusion of the race to individuals who could truly profit from this sort of a donation.